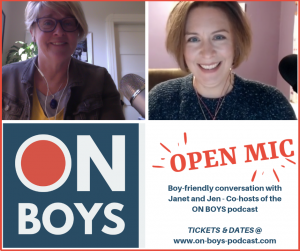 Janet and Jen strive to bring you topics that matter and trends that you need to know about, along with the inspiration and support you need to parent and teach "tomorrow's men" to be their best and thrive right now.
After almost a year of recording our weekly podcast, Janet and Jen want to turn the mic over to YOU!!
We want to connect LIVE with our listeners. 
Let's talk about our worries, wonders, and what we are celebrating as parents raising BOYS! (And teachers, too!)
Janet and Jen are "BOY CHAMPIONS" and love to share their experiences – in teaching boys, raising boys, and being boy advocates for over 35 combined years!
During this OPEN MIC, we're ready to discuss and answer ANYTHING-BOY you want to talk about….
CLICK HERE for your ticket. (only $25!)
JOIN US for 90 minutes LIVE!
at the NEXT OPEN MIC:  Wednesday, December 12th
10 am pacific/11 am mountain/ noon central/ 1 pm eastern
Invite a friend – and we'll see you soon!
Much love,
Janet & Jen