Podcast: Play in new window | Download (Duration: 28:41 — 32.9MB)
Subscribe: Google Podcasts | Stitcher | RSS | More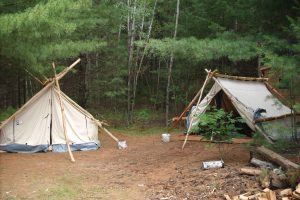 'Tis the season for sleepaway camp and summer sleepovers!
For some parents and kids, though, the prospect of a night away from home is scary. There are so many 'what-if's' that could happen: what if they're cold? what if they get homesick? what if…what if…what if…
But what if you let your kid go anyway? What if you work together to tackle any fear and uncertainty, and give your son the opportunity to test his skills and stamina?
Time away from home is an opportunity for boys to:
Discover new parts of themselves
Build their resilience & self-esteem
Be in charge of their own growth
Learn how to struggle, suffer and navigate feelings of boredom
Connect and collaborate with others
Sleepovers and sleepaway camp are a great opportunity for parental growth and development too.
When you send your son away (temporarily!), you learn to..
Let go.
Trust your kids
Allow other adults to mentor and influence your child.
Still nervous? Listen to the podcast. 🙂
In this episode, Jen & Janet dig in and discuss:
The right age for sleepovers and slumber parties
How to deal with separation anxiety
Why time apart is good for parents and kids
How to create sleepaway experiences on a budget
Links we mentioned (or should have) in Episode 114:
Homesick & Happy: How Time Away From Parents Can Help a Child Grow, by Michael Thompson
Kidsickness: Help for First Time Parents from the Sunshine Parenting blog
Homesickness Do's and Don'ts from the Sunshine Parenting blog
To SEE Janet and Jen discussing their own summer adventures AND the benefits of letting your kids go… see us on youtube … uncut!
What have your experiences been with sleep-aways? Comment below!