Podcast: Play in new window | Download (Duration: 33:46 — 38.7MB)
Subscribe: Google Podcasts | Stitcher | RSS | More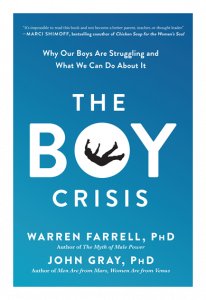 Your son is not the only one struggling. According to Dr. Warren Farrell — and a slew of research — boys in 63 of the largest developed nations are faring worse than girls. They're doing worse academically. They're falling behind in the workplace. And their physical and mental health is failing as well.
In his new book, The Boy Crisis: Why Our Boys Are Struggling and What We Can Do About It, Farrell (and his co-author, John Gray) examine the many factors contributing to the boy crisis. They also point toward possible solutions. Solving the boy crisis will take a lot of effort on the part of parents, teachers and politicians, but it's a cause that's well worth our attention, because when our boys suffer, society suffers.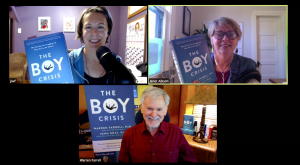 In this episode, Jen, Janet & Warren discuss:
How (and why) father absence hurts boys & society
How moms (married or single) can encourage & support father involvement
Why so many boys suffer a "purpose void"
The importance of postponed gratification
The link between recess, vocational education and the boy crisis
How to find male mentors for your son
The 4 "must-do's" for divorced parents of boys
How dad deprivation may contribute to social violence — including school shootings
Links we mentioned (or should have) in Episode 115:
boycrisis.org –– Dr. Farrell's website, jam-packed with info about the book and lots of links to other resources & organizations (including BuildingBoys & Boys Alive!)
Coalition to Create a White House Council on Boys & Men — multi-partisan effort working to create, well, a White House Council on Boys & Men, to research and implement initiatives to support the well-being of males, in the same way the White House Council on Women & Girls has since its establishment in 2009.
Are Single Parents Bad for Boys? — BuildingBoys post by Jen (Spoiler alert: The short answer is "not necessarily.")
Is Shared Parenting Best for Boys After Divorce? — personal blog post by Jen
The Boy Crisis is Real – BuildingBoys' review of the book
And, just for fun, watch the uncut version on Youtube!