Podcast: Play in new window | Download (Duration: 24:44 — 28.3MB)
Subscribe: Google Podcasts | Stitcher | RSS | More
Love really is what makes the world go around. 
At least, it's what makes the world a better place!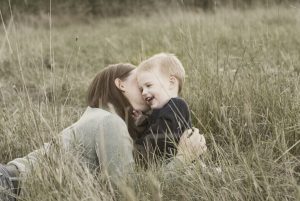 On Valentine's Day, our thoughts typically turn to romantic love (thanks to a hefty assist by Hallmark, restaurants and jewelry companies.) In this special Valentine's Day episode, we're focusing on another kind of love: The love between parents and children, between grandparents and grandchildren, between teachers and the kids they teach. We're talking about transformative love — the kind of love that tells a kid he's all right, and that the world needs him.
We all love our children, but do our kids feel that love in their lives in a very real way? Many moms of boys struggle with how to best connect with their male children, especially when their boys seem more interested in playing video games online with their friends than having a heart-to-heart talk.
So, we asked boys: How can the adults in your lives show you their love? Their answers may surprise you — and give you some ideas you can use to build your relationship with the boys in your life.
In this episode,  Janet & Jen:
Why investing time in having fun with your boys is SO worthwhile!
The importance of engaging with boys on their level, of accepting them as they are right this moment
The important of physical affection, even for tween & teen boys
Why you might want to be careful about packing "love notes" in your son's lunch box
Links we mentioned (or should have) in Episode 148:
How to Tell Your Son "I Love You" — BuildingBoys post that inspired this episode
Hug Your Boys –– classic BuildingBoys post
Where the Red Fern Grows — YA book mentioned by Janet at about 16:00 (and yes, she sent Jen a copy immediately after recording this episode!)
McElligot's Pool –– classic Dr. Seuss book mentioned at about 19:00
Mothering Our Boys: A Guide for Mums of Sons — Maggie Dent's latest book (Don't know who Maggie Dent is? Pop over & listen to our conversation with her!)
Episode 120: Hygiene Help for Tween and Teen Boys
The 5 Love Languages of Children — book by Gary Chapman and Ross Campbell
The 5 Love Languages of Teenagers — book by Gary Chapman