Podcast: Play in new window | Download (Duration: 25:40 — 29.4MB)
Subscribe: Google Podcasts | Stitcher | RSS | More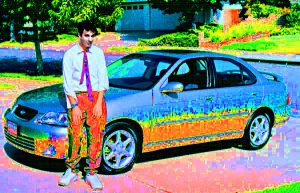 Sweet 16.
Here in the United States, age 16 has long been an eagerly anticipated milestone, largely because teens are eligible to get a driver's license at age 16. In the minds of many teens, age 16 = driver's license = increased independence. In the minds of many parents, age 16 = increased insurance costs and anxiety regarding their child's safety.
In fact, fewer teens are getting drivers' licenses at age 16. According to an article published on Wired.com, just 71% of high school seniors have a driver's license; that's the lowest percentage in decades. Societal changes account for the decline: the prevalence of ride-sharing services such as Lyft & Uber means that many teens don't need to drive to get from one place to another, and social media now allows teens to socialize without leaving home. Economic challenges are a factor as well: 36% of non-driving teens cite "overall cost" as a contributing issue.
Whether your teen gets a driver's license or not age 16 is a big deal. It's a step toward independence, and time to talk about responsible decision making.
In this episode, Janet & Jen discuss:
Learning to drive as a rite of passage
The importance of following your son's lead (Some are ready to drive at age 16; some have no desire)
How to tell if your son is ready to drive
How to set limits and guidelines that fit your son
Why parents may not be the best driving instructors for their children
How to talk to kids about the risks & responsibilities of driving (Hint: sharing scary stats does not work.)
How graduated driver's licenses help teens build experience
The role of role-modeling (Don't want your teen to text & drive? Don't text and drive!)
The cost of driving — how parents & kids can share the expense
Things to consider when purchasing/helping your son purchase a car
Links we mentioned (or should have) in Episode 154:
How to Intervene When Life Gives Your Grown Son a Lemon — article mentioned by Jen at about 20:00
Parent-Teen Driving Contract — template created by the American Academy of Pediatrics and Centers for Disease Control
Street Survival driving school — driving school mentioned by Janet at 10:02
Age 16 & Learning to Let Go – blog post about what happened after Jen's son got his license