Podcast: Play in new window | Download (Duration: 30:52 — 35.4MB)
Subscribe: Google Podcasts | Stitcher | RSS | More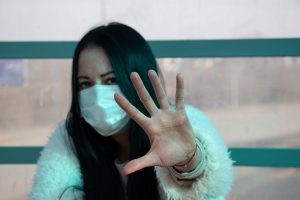 COVID-19 (the disease caused by the novel coronavirus) has changed everything.
Our daily lives now look nothing like we imagined at the beginning of the year. We're hunkered down in our homes, and wondering how to get toilet paper and flour — basics we once took for granted. Some of us are working from home and trying to figure out how the $*#( to juggle full-time work with with full-time family. Others have to go to work in spite of the virus, often fearing for their safety. Many have lost work, and our kids have lost the rhythm and routines associated with school.
Given the challenges, we thought now might be a good time for another Listener Q & A. You asked:
How do we help our boys step up to the self-motivation and self-discipline necessary to do online school?
Jen says, "Our kids likely are not going to be better with online learning, in the middle of a pandemic, than they were going before. If your son struggled with self-discipline,organization and motivation before, it's not going to be better now. It will probably be worse."
Fighting with or badgering your son isn't likely to help. Instead, reorient your expectations: It's OK (for all of us!) to not be super motivated at the moment. Then, communicate with your son's teachers. 
Parents of high schoolers asked us how to motivate boys to take action toward their futures. Christine said:
My son is a junior and has huge aspirations for Air Force Academy/fighter pilot, but is REALLY struggling with the big self motivation/dedication required to take the steps for that process.
We encourage a pause and some deep breaths. We're all having trouble planning for the future right now, as none of us know what the future holds.
Anger & irritability are common right now. You asked:
Why is every single thing I say so annoying to my son?
and
What do we do with angry boys?
Jen reminds us that "many people — especially boys — are reacting with anger because they haven't learned to identify fear."
In this episode, Janet & Jen discuss:
Managing the many demands on our time (work, school, family, cooking, disinfecting…!)
Why it's okay to NOT do all the assignments school is sending home
Using nature and humor to relieve stress
Learning from life
Navigating online schooling
Planning for the future when the future is uncertain
Getting comfortable with the unknown
Managing fear and discomfort
Why you should share your feelings with your son
The importance of physical activity (to release energy and anger)
Teaching boys to pay attention to their bodies and minds
Vaping & drinking — some teens may be experiencing withdrawal
When to reach out for professional support
Links we mentioned (or should have) in this episode:
Coping with Coronavirus – ON BOYS episode
Managing Emotions — ON BOYS episode featuring Ellen Dodge's advice on dealing with feelings during the coronavirus crisis
Anger & Boys — ON BOYS episode 104
Decoding Boys with Dr. Cara Natterson — ON BOYS episode mentioned at 24:40
Mental Health & COVID-19: Information and Resources — includes links to financial assistance, tools to cope with anxiety and MULTIPLE hotlines, text lines & online supports
LIKE THIS EPISODE? Share it with your friends (and thanks!):
Twitter:
Facebook:
Linkedin:
STAY CONNECTED WITH JANET & JEN:
Join the Building Boys FB group and the Boys Alive! FB group
Be sure to opt-in at  Boys Alive! .com for your free report "3 Simple Tips to CONNECT with Your Boy."  And opt-in at  BuildingBoys.net, too!
Follow us on Instagram:  @on.boys.podcast and @boys.alive
Twitter:  @ParentAdvisor and @BuildingBoys 
LinkedIn:  use this link for Janet and use this link for Jennifer