Podcast: Play in new window | Download (Duration: 36:26 — 41.7MB)
Subscribe: Google Podcasts | Stitcher | RSS | More
Managing emotions — our boys, & our own — is challenging in the best of times.
This, most definitely is not the best of times. We're cooped up in our houses with kids who miss their friends and activities. With boys who no longer have soccer or baseball practice to help them burn off some energy. In the midst of a global pandemic that's upended all of our routines. While we ourselves are experiencing great emotional turmoil.
We can't just simply brush our emotions to the side, or expect our children to function like normal.If we're to survive this pandemic with our sanity intact, we need some tools for managing emotions.
Ellen Dodge is a  speech-language pathologist and boy advocate who has spend the last 3 decades helping children understand and express emotions. She says "this is a time for us to steady our ships and learn how to communicate feelings, to make things a little bit better."
Not sure how to do that? Ellen shares some some super useful tips:
Stop talking so much. Boys can easily become overwhelmed by words. Stop asking what, where, when, why so much. Try quiet instead. Make space for them to speak.
Try "tell me the story." When you see your guys doing something — positive or negative — ask them to tell you the story behind their actions. If you see a feeling on your son's face, ask him to tell you the story behind the feeling.
Make feelings concrete. Boys tend to be hands-on learners; they do best when they can touch, feel and manipulate whatever it is they're learning about. You can use plush toys (like Kimochis) to help boys name and identify emotions, or you can do something silly (but effective) like write "feeling words" (happy, scared, frustrated) on a white board and allow your son to "shoot" his feelings with a Nerf gun.
Normalize feelings. Talk about them. Let your kids know that all people (even parents!) have feelings and that we all make mistakes as we figure out how to manage them. Explicitly say, "We all get re-dos." Become a "second-chance family."
Set expectations: "You can be made, but you can't be mean." Brainstorm acceptable ways to express anger & frustration.
Stop & reset. When your kid is exhibiting behaviors you don't like, stop for a minute and imagine that he's not your kid. This mental exercise can allow you to see that situation more clearly and stop catastrophizing. (Yes, your 2-yr-old might be biting now, but he most likely will not be biting people at 16, no matter what you do in the next moment.) Use the 5-5-5 tool: Ask yourself: Will this person be doing this behavior in the next 5 minutes? 5 weeks? 5 years?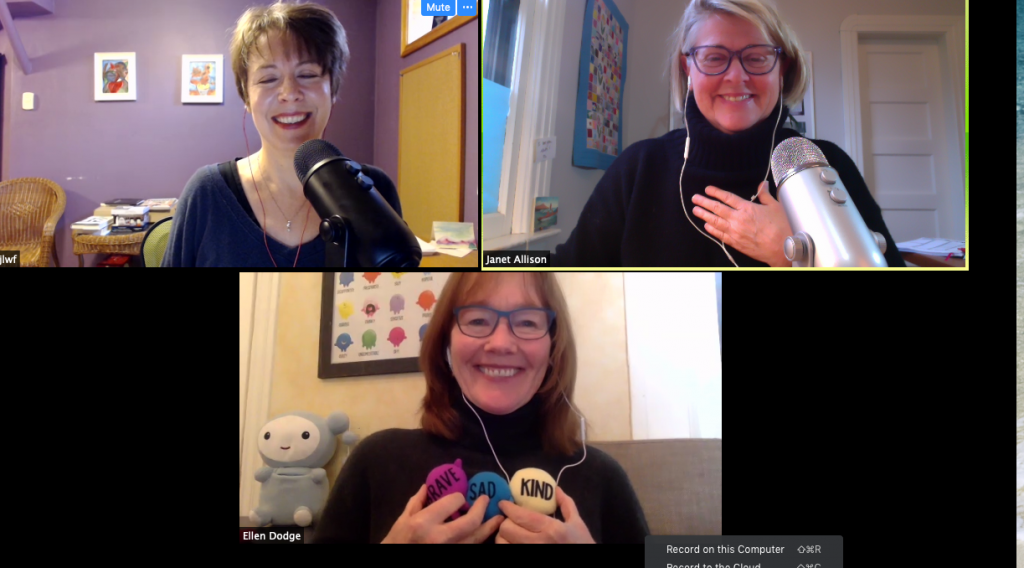 In this episode, Jen, Janet & Ellen discuss:
Big feelings in small spaces
Why boys may struggle emotionally when confined to home
How to stop over-reacting to your son's feelings
Techniques you can use to help boys manage their emotions
How physical activity helps boys process emotions
Why should should focus on connection, not communication
Why it's OK to admit that you don't know what you're doing
How social distancing might give our kids the chance to rediscover themselves
Links we mentioned (or should have) in this episode:
Kimochis — toys, tools and free resources to help children manage their emotions
The Parenting Partner — includes the link to Ellen's Master Class
The Parenting Partner on YouTube — Ellen's "commercials"
LIKE THIS EPISODE? Share it with your friends (and thanks!):
Twitter:   Use this link
Facebook:  Use this link
Linkedin:   Use this link
STAY CONNECTED WITH JANET & JEN:
Join the Building Boys FB group and the Boys Alive! FB group
Be sure to opt-in at  Boys Alive! .com for your free report "3 Simple Tips to CONNECT with Your Boy."  And opt-in at  BuildingBoys.net, too!
Follow us on Instagram:  @on.boys.podcast and @boys.alive
Twitter:  @ParentAdvisor and @BuildingBoys 
LinkedIn:  use this link for Janet and use this link for Jennifer