Podcast: Play in new window | Download (Duration: 32:56 — 37.7MB)
Subscribe: Google Podcasts | Stitcher | RSS | More
Kara Kinney Cartwright has a message for teenage boys & young men: just don't be an asshole.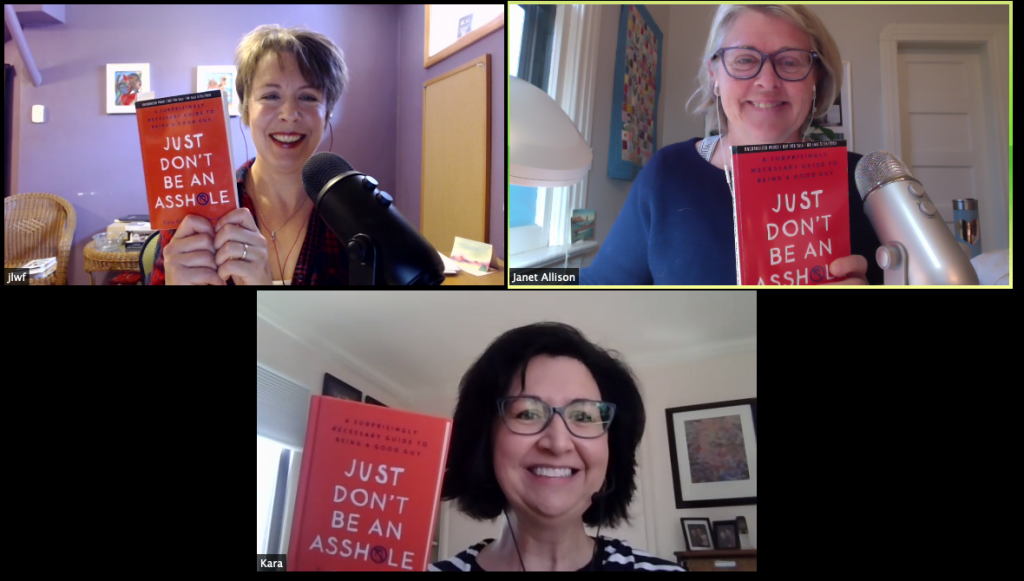 The mom of two grown sons, Kara began writing Just Don't Be an Asshole: A Surprisingly Necessary Guide to Being a Good Guy as her sons were preparing to head out into the world. The project was inspired, in part, by her anxiety (have I taught them everything they need to know?) and, in part, by cultural changes. Thanks to the #MeToo movement and a slew of highly publicized stories of powerful men behaving badly, parents everywhere are wondering how to raise boys who won't be jerks. Or assholes.
Kara's book is designed "to provide young men with a framework for how to treat others — and themselves — with respect and dignity." She hopes the book will help parents and teens at a critical (and challenging) juncture in life, noting that teens are less likely to listen to their parents during adolescence, even as the consequences of bad decisions loom ever larger.
The best part? Because she's a mom of boys, Kara's advice is grounded in humor and respect. She knows that asshole-y behavior is incredibly common and normal during the teen years, and doesn't shame boys. Instead, she shows them how a mature man behaves.
As she writes in the book,
Acting like an asshole doesn't mean you're a bad person. It doesn't even necessarily mean you're an asshole. What it means is that you don't understand how your man-sized presence is affecting other people in the moment and how THAT is going to affect YOU in the long run."
Note: We recorded this episode before coronavirus shutdowns were common across the United States. For up-to-date information regarding coronavirus & COVID-19, visit cdc.gov and who.int.
In this episode, Jen, Janet & Kara discuss:
What her sons think about her book
"Normal" teenage development
Important life lessons to teach your son (what to do if you get in a car accident, how to act on a job interview, etc.)
Why boys are often assholes to their families
How to help you boys recognize that other people are human beings
Boys, sarcasm and "hilarious" sexist and racist comments
Talking to teen boys about coronavirus
Helping boys understand the consequences of their decisions
Why you must give boys specific suggestions and language to use
Links we mentioned (or should have) in this episode:
Just Don't Be an Asshole: A Surprisingly Necessary Guide to Being a Good Guy — Kara's book
Boys & Sex with Peggy Orenstein –– our conversation w Peggy about her book, Boys & Sex (mentioned at 19:11)
The Role of Memes in Teen Culture — NYT article by Jen (mentioned at 21:54)
LIKE THIS EPISODE? Share it with your friends (and thanks!):
Twitter:    Use this link
Facebook:   Use this link
Linkedin:   Use this link
STAY CONNECTED WITH JANET & JEN:
Join the Building Boys FB group and the Boys Alive! FB group
Be sure to opt-in at  Boys Alive! .com for your free report "3 Simple Tips to CONNECT with Your Boy."  And opt-in at  BuildingBoys.net, too!
Follow us on Instagram:  @on.boys.podcast and @boys.alive
Twitter:  @ParentAdvisor and @BuildingBoys 
LinkedIn:  use this link for Janet and use this link for Jennifer