Powered by RedCircle
Damon Brown is a journalist, author, entrepreneur, and primary caregiver for his two young sons, ages 6 and 9. But from his earliest days of parenting, people assumed he was simply "helping" his wife. 
"I'd put on the Baby Bjorn and walk to the grocery story and hear 'Oh, is it Daddy day?' or 'Are you taking over for Mom while  she's resting?'" Damon says. "And there's a whole 'nother layer to to it being African-American." (Including backhanded compliments about "sticking around" to raise his children.)
Modeling Emotional Honesty
Damon describes himself as an emotionally honest person; he'll tell you when he's overwhelmed, upset, or happy. As a dad, he now realizes that emotional honesty is "one of the biggest gifts that I'm giving my boys." Simultaneously, he reminds us that we must learn to accept emotional honesty from males.
How a Tech-Savvy Dad (who wrote for Playboy) Talks about Screen Time & Sex
Damon brings some advantages to parenting boys: Unlike many modern parents, he's tech- and culture-savvy. In 2008, he wrote Porn & Pong: How Grand Theft Auto, Tomb Raider, & Other Sexy Games Changed Our Culture, a book that examined the impact of video games and porn on popular culture. He even co-founded an intimacy app, Cuddlr (way back in 2014!).
Damon says he's handling his sons' exposure to technology "very carefully." He knows, from personal experience, that simply setting borders and boundaries isn't effective. "It's not just a matter of saying, 'don't do this,'" Damon says. "It's more, 'If you're going to tread in these territories, these are the mile makers and this is the compass.'"
He talks to his boys about intimacy and boundaries — not only "this is what a boundary is" and "respect the boundaries of other people," but also "respect the boundaries of yourself." Boys too rarely hear that last part; they need to know that it's okay to not want sexual or intimate contact (and that they have the right and responsibility to say no). Too often, people who are raising boys forget to emphasize that point.
Helping Boys Understand Independence
Boys (and men) today still feel a lot of pressure to be independent. At age 9, Damon's oldest son has already unconsciously internalized the idea that guys should be self-reliant — so when the boy got stuck on his homework, he simply stopped doing it.
Damon corrected his son's mis-interpretation of indepence. "Independence," he told the boy, "is getting the support you need to create the life that you want."
In the moment, the child was unimpressed. But Damon knows his son will eventually need to ask for help, so he's talking about independence and help-seeking now. Raising boys is a long game.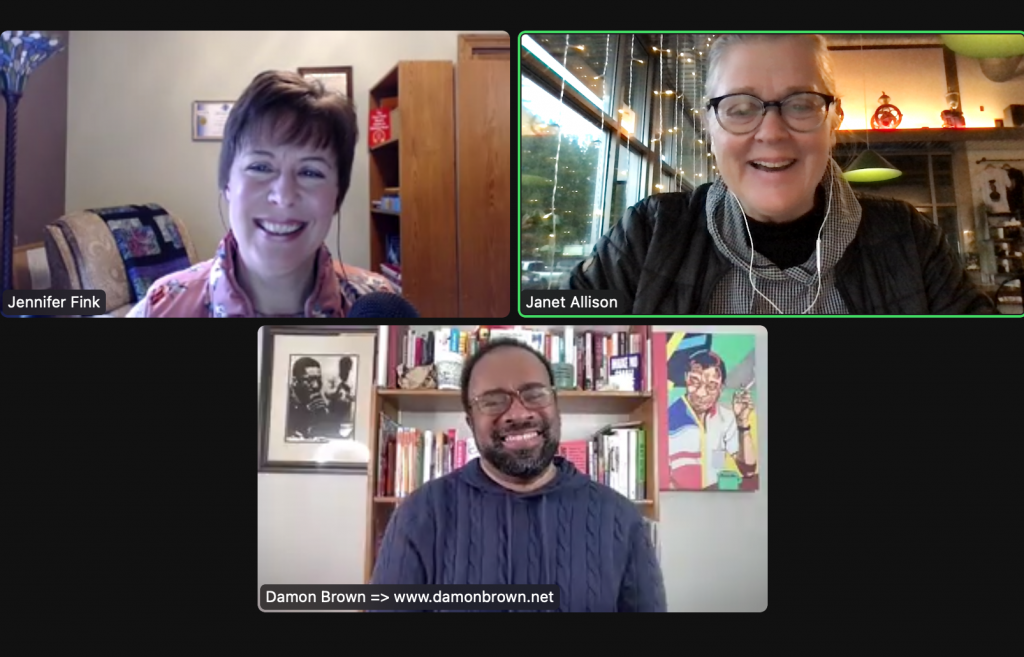 In this episode, Jen, Janet, & Damon discuss:
How our family experiences affect our parenting
Cultural & societal expectations of dads
Emotional honesty
Generational growth
Screentime, technology, & intimacy
Teaching boys about boundaries, consent, intimacy, & independence
Links we mentioned (or should have) in this episode:
damonbrown.net — Damon's website
Porn & Pong: How Grand Theft Auto, Tomb Raider, & Other Sexy Games Changed Our Culture, by Damon Brown
Dads Need Therapy; Black Dads Aren't Getting It — Yahoo article by Damon
Why You Should Strive for Good Enough — one of Damon's TED talks
#BringYourWorth — Damon's YouTube TV show
Healthy, Organic, Meal Kit Delivery Service. Use promo code ONBOYS60 to get 60% off & free shipping!