Podcast: Play in new window | Download (Duration: 33:41 — 38.6MB)
Subscribe: Google Podcasts | Stitcher | RSS | More
Baby boys' testosterone levels are nearly the same as teenage boys'.
But for the first few weeks after conception, well, there's no discernible difference between a male embryo and a female embryo. The testosterone surge that occurs in the 2nd and 3rd trimesters of pregnancy is responsible for the cascade of developmental changes that what differentiates a boy baby from a girl baby, and from then on, "testosterone drive the bus," Janet says.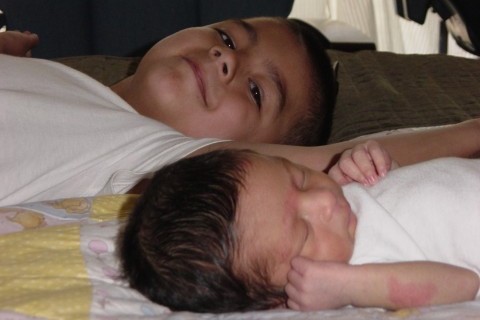 Understanding male development will help you understand your boys and what they need. It may help you relax and enjoy your child as well.
"When parents understand male development and what is developmentally appropriate, they feel less anxious if their son can't do the same things as their neighbor's daughter," Jen says.
Join us as we discuss the development and growth of baby boys, toddlers and preschoolers.
In this episode, Jen & Janet discuss:
Prenatal development of baby boys
How testosterone influences the development of male infants
Male vulnerability to health problems
How lack of father involvement affects boys
Nature vs. nurture
Bonding with baby boys
Why boys may "take longer" to hit developmental milestones
What to look for in a daycare, preschool and elementary school setting
Nature & forest preschools
The link between movement and learning
Why we can't expect our little ones to live on our adult timeline
Using empathy when kids struggle with transitions
How screen time affects language development
Links we mentioned (or should have) in this episode:
Why Men Die Younger Than Women: The "Guys Are Fragile" Thesis — NPR story
Study Finds Moms Talk More to Babies, Especially Baby Girls
American Forest Kindergarten Association (We love this quote from their founder, Erin Kenny: "Children cannot bounce off the walls if we take the walls away.")
Toddlers' Screen Time Linked to Slower Speech Development, Study Finds – PBS story
Story Time, Not Screen Time: Why E-Books Aren't Better for Toddlers
LIKE THIS EPISODE? Share it with your friends (and thanks!):
Twitter:  Use this link
Facebook:  Use this link
Linkedin:  Use this link
STAY CONNECTED WITH JANET & JEN:
Join the Building Boys FB group and the Boys Alive! FB group
Be sure to opt-in at  Boys Alive! .com for your free report "3 Simple Tips to CONNECT with Your Boy."  And opt-in at  BuildingBoys.net, too!
Follow us on Instagram:  @on.boys.podcast and @boys.alive
Twitter:  @ParentAdvisor and @BuildingBoys 
LinkedIn:  use this link for Janet and use this link for Jennifer