Podcast: Play in new window | Download (Duration: 46:53 — 53.7MB)
Subscribe: Google Podcasts | Stitcher | RSS | More
Black boys fare worse than white boys in 99% of America.
Here to help us untangle the many factors that affect black boys' experience in America is Hilary Beard, author of Promises Kept: Raising Black Boys to Succeed in School and Life and creator of Rise & Thrive Online Parenting Program.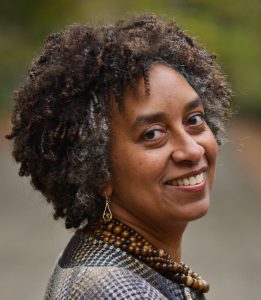 "We thought we were raising the Obama generation, a generation of young people who would live in a world that was very diverse, with racial harmony and a greater level of equity. We thought our children would finally be able to walk through the doors of opportunity and assume their rightful seat at the table," Hilary says. But in late 2019, Black and brown boys continue to be pulled over and prosecuted for actions that often net white boys a warning. The President of the United States recently told four black and brown congresswomen to "go back….[to] the totally broken and crime infested places from which they came." And hate crimes targeting individuals' race and ethnicity are on the rise, according to statistics from the U.S. Department of Justice.
So, even as Americans cry over the injustices illustrated in When They See Us, the Netflix mini-series portraying the experiences of five boys once known as the Central Park Five, inequality and racism remain. Black and brown children are frequently disciplined in school for developmentally appropriate behavior — which affects children's perceptions of themselves and of school, as well as academic outcomes. (Kids who are suspended and expelled from school spend less time in class, so their academic performance tends to fall off and they are less likely to graduate high school and attend college.)
Talking about race isn't easy, but it's absolutely necessary.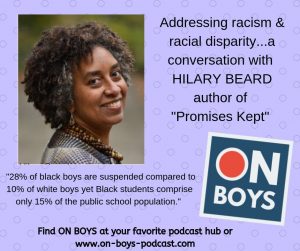 In this episode, we discuss:
How parents of Black & brown boys can help them survive & thrive in the face of racism
The racial wealth gap (& how it was created by public policies)
Mass incarceration & the school-to-prison pipeline
Unconscious and implicit bias
How zero tolerance policies have had an out-sized effect on boys, especially Black and brown boys
How parents & concerned citizens can address racial disparities in education
How white people can effectively ally with Black and brown people
Links we mentioned (or should have) in this episode:
Promises Kept: Raising Black Boys to Succeed in School and Life, by Hilary Beard (companion book to the documentary American Promise)
HilaryBeard.com –– Hilary's website. Includes links to her books, articles & classes
Extensive Data Shows Punishing Reach of Racism for Black Men — New York Times article that graphically illustrates differences in outcomes between white & black males of similar backgrounds
How to Build Up Black Boys — U.S. News & World Report article by Jen
ocrdata.ed.gov — database you can use to see your school's or district's disciplinary data
Zero Tolerance: An Idea Whose Time Had Passed? — Scholastic article by Jen
Behavioral Referrals Plummeted While Attendance Skyrocketed in this District — Jen's article about alternative discipline approaches
Building a Positive School Culture: How One School Transformed from Violence to Haven — 2014 School Leaders Now article by Jen
White Fragility: Why It's So Hard for White People to Talk about Racism, by Robin DiAngelo — book mentioned at 39:20
MTV's Look Different –– includes an implicit bias quiz, 7-day bias cleanse and tips about language
LIKE THIS EPISODE? Share it with your friends (and thanks!):
Twitter – use this link
Facebook – use this link
LinkedIn – use this link
STAY CONNECTED WITH JANET & JEN:
Join the Building Boys FB group and the Boys Alive! FB group
Be sure to opt-in at  Boys Alive! .com for your free report "3 Simple Tips to CONNECT with Your Boy."
and opt-in at  BuildingBoys.net
Follow us on Instagram:  @on.boys.podcast and @boys.alive
Twitter:  @ParentAdvisor and @BuildingBoys 
LinkedIn:  use this link for Janet and use this link for Jennifer