Podcast: Play in new window | Download (Duration: 43:33 — 59.8MB)
Subscribe: Google Podcasts | Stitcher | RSS | More
The Global Initiative for Boys & Men (GIBM) focuses on research and advocacy to support boys and men, according to Sean Kullman, the group's president.
GIBM has established a BAM index, a Boys and Men Well-Being Index, an open-source resource packed with information and statistics the reflect the well-being of boys and men. The BAM Index has data in 6 categories:
Education
Physical and mental health
Job, career and financial health
Fatherhood, family and relationships
Criminal justice system and court systems
Male narrative in the public discourse
The data shows that "we as a culture are just meaner — less understanding — to boys," Kullman says. And our educational systems really don't address the fact that boys and girls, generally speaking, learn differently. To date, state and federal governments also have been hesitant to allocate funding to boys' & men's issues.
Sean encourages parents of boys to run for a seat of their local school boards.
"I think we need to see more parents who feel strongly about their boys running for school board," he says. "Until you get members of the community who care about boys on the board, it won't change."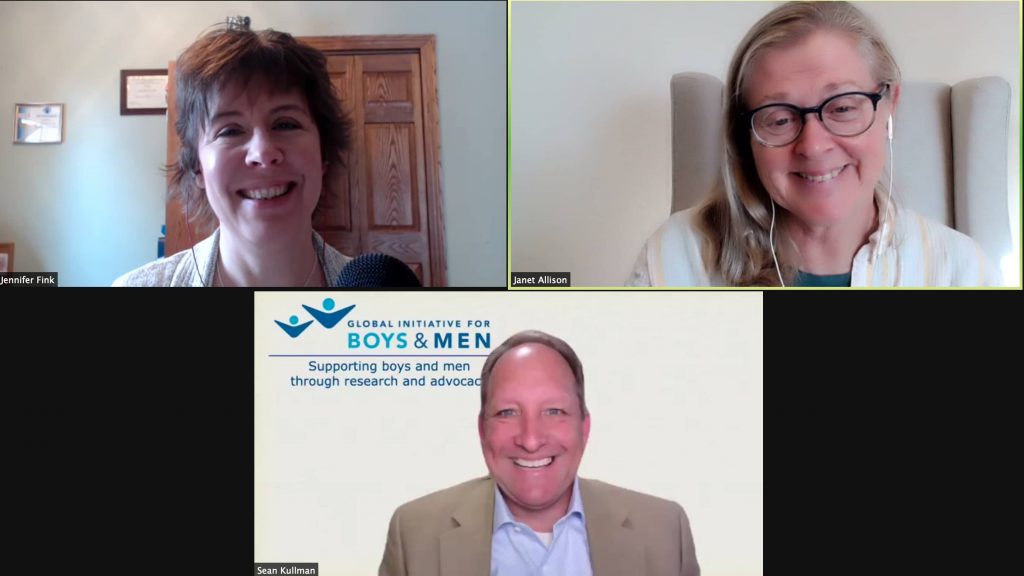 In this episode, Jen, Janet, & Sean discuss:
the BAM Index (measures of men & boys well-being)
Why legislators need information regarding male well-being
School suspension rates for males
School to prison pipeline
Gender differences in drug enforcement
Gender differences in educational attainment
Gender discrepancies in educational funding
Links we mentioned (or should have) in this episode:
Global Initiative for Boys & Men — includes links to state reports on the Status of Boys & Men (currently, CA, CO, & MO only)
Invitation to a Dialogue: Helping Boys Succeed — Sean's NYT article (mentioned at 4:30)
Coalition to Create a White House Council on Boys & Men — mentioned at 4:36 (you'll see Jen listed under Prominent Women Supporters)
Male Advocacy Group Files Legal Complaint Against Pacific Science Center for Girl-Specific Programs — article about GIBM's activity
While Biden's $2.6 Billion Policy Targets Gender Equity Abroad, Americans are Dying at Home — Sean's article (mentioned at 14:40)
The Boy Crisis with Warren Farrell — ON BOYS episode
Is Shared Parenting the Best for Boys After Divorce? –– Building Boys post
In His Words — Sean's Substack newsletter, mentioned at 37:35
A Generation of Men Give Up on College — WSJ article mentioned at 37:58
Need help with your boys?
Subscribe to Jen's newsletter, Building Boys Bulletin
Opt-in at Boys Alive! for your free guide: Boys & Big Emotions with Janet
Use the ON BOYS coupon code to save 15% on their Raising Next Gen Men e-course