Podcast: Play in new window | Download (Duration: 28:01 — 32.1MB)
Subscribe: Google Podcasts | Stitcher | RSS | More
More Maggie Dent!
(If you haven't yet listened to Part 1 of our conversation, go listen to that one first. Then come back for more Maggie!)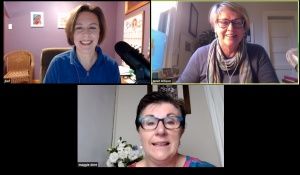 In this episode, Maggie, Janet & Jen discuss:
How to help elementary school boys handle their frustration when they get in trouble at school
Boys' inclination toward protecting others
How to support boys' interest in superhero boy & play fighting
How to deconstruct the "man code" and help boys' live authentically
How to talk so boys will listen
The importance of social-emotional development and learning
Boys' friendships — & how moms can help their sons develop important relationship skills
"Rooster" boys & "lamb" boys, & what they need from their parents & teachers
Links we mentioned (or should have) in this episode:
Mothering Our Boys: A Guide for Mums of Sons — Maggie's latest book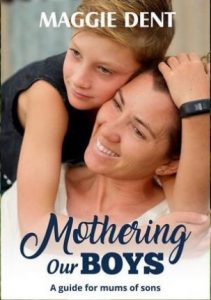 "This is the book I'm on the earth to write." — Maggie Dent
maggiedent.com — Maggie's website. Jam-packed with resources!
Let Grow —  The new website of Lenore Skenazy, of Free-Range Kids fame
Dear mums of smelly, unmotivated, lazy, moody and confused 14 year old boys — one of Maggie's best blog posts
Maggie Dent on YouTube –– Pro Tip: These short videos are great to share with dads!
Episode 129: Grief with Tom Golden
How to Listen to Him — So He Will Want to Talk to You
IF YOU LIKE THIS EPISODE – Please share it with a friend! (and thanks!)
TEXT them the link:  http://on-boys-podcast.com
And share on your social media:
Twitter: Use this link
Facebook:  Use this link
Linkedin: Use this link
STAY CONNECTED WITH JANET & JEN:
Join the Building Boys FB group and the Boys Alive! FB group
Be sure to opt-in at  Boys Alive! .com for your free report "3 Simple Tips to CONNECT with Your Boy."  And opt-in at  BuildingBoys.net, too!
Follow us on Instagram:  @on.boys.podcast and @boys.alive
Twitter:  @ParentAdvisor and @BuildingBoys 
LinkedIn:  use this link for Janet and use this link for Jennifer