Podcast: Play in new window | Download (Duration: 32:09 — 36.8MB)
Subscribe: Google Podcasts | Stitcher | RSS | More
We initially ran this episode in July 2018. But we've gained a lot of followers since then and tween & teen boys have not suddenly gotten better at personal hygiene in the interim. If you're sick of fighting with your boy about hygiene, this episode is a must-listen.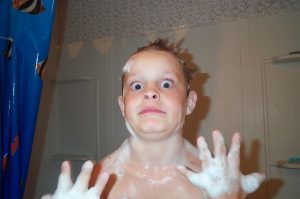 Have a boy who hates to shower?
You are not alone!
When a mom recently asked the Building Boys Facebook group, "Anyone else have a teenage boy who hates to shower?" she was quickly inundated with support and sympathy.
Personal hygiene, it seems, is not a priority for most tween and teen boys.
Lots of moms said they're dealing with the exact same issue. Others said that their boys spend a lot of time in the shower, but come out with unwashed, still-dirty hair.
Is this lack of interest in appearance and, um, smell, merely a stage that will resolve without intervention?
Or should parents and teachers take a more active role in teaching and reinforcing hygiene habits?
Turns out, the best approach is actually a combination of those two strategies.
In this episode, Jen & Janet discuss:
WHY some boys seems oblivious to their own stench
The essential role of 5th grade teachers in the hygiene battle
How colored liquid soap can help boys shower effectively
"Man soap" vs. "girly soap"
Axe bombs (Don't know what that is? Listen in at 12:41!)
When — and how — to have the hygiene talk
When boys should start using deodorant – & how to make sure your boys use it regularly (Listen carefully for Jen's pro tips!)
The role of role-modeling in personal hygiene
How to get the stench out of your boys' gym clothes and sports uniforms
Tooth brushing (Spoiler: Instill good tooth brushing habits when you boys are young!)
Hair care
How to combine male bonding and hygiene rituals (not as weird as it sounds!)
BEING NEUTRAL!
Links we mentioned (or should have) in this episode:
Boying Up: How to be Brave, Bold and Brilliant. by Mayim Bialik — A great book to leave laying around the house. Includes detailed hygiene instructions for boys.
Why Do Teenagers Smell Bad? Study Suggests They May Be Unable to Detect Own Scent — report of Danish research
ON BOYS on YouTube — watch uncut versions of our conversations
Sponsor Spotlight: Stryke Club
Skin care specifically made for boys! Created by a group of "boy moms," including a pediatric dermatologist, Stryke Club products are simple, safe and non-drying. Use discount code ONBOYS to save 10%.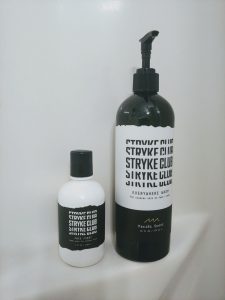 LIKE THIS EPISODE? Share it with your friends (and thanks!):
Twitter:  Use this link
Facebook:  Use this link
Linkedin:  Use this link
STAY CONNECTED WITH JANET & JEN:
Join the Building Boys FB group and the Boys Alive! FB group
Be sure to opt-in at  Boys Alive! .com for your free report "3 Simple Tips to CONNECT with Your Boy."  And opt-in at  BuildingBoys.net, too!
Follow us on Instagram:  @on.boys.podcast and @boys.alive
Twitter:  @ParentAdvisor and @BuildingBoys 
LinkedIn:  use this link for Janet and use this link for Jennifer