Podcast: Play in new window | Download (Duration: 29:03 — 33.3MB)
Subscribe: Google Podcasts | Stitcher | RSS | More
The beginning of the school year stirs up a lot of emotions for boys — and their parents. The number of boys who don't like school has been increasing in recent years. In 1980, just 14% of boys told researchers they "didn't like" school. By 2001, 24% — nearly one-quarter of all boys — said they didn't like school. Today, that number is likely even higher.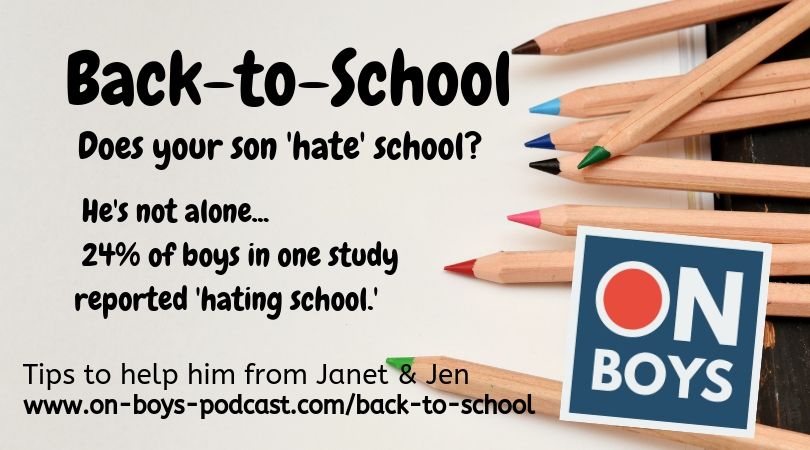 Pay attention to your son's signals. His reactions to back-to-school ads and events can tell you a lot about his general attitude toward school. Look. Listen. Then, help him address his concerns.
Remember: school is just ONE PART of your son's life. Sure, you'll want to encourage him to do his best, but please leave room for family time and personal interests as well. Overemphasizing academics does not help boys.
In this episode, Janet & Jen  discuss:
Why so many boys dislike school
Physical and emotional symptoms of school anxiety
Transitioning from summer to school
How to help your son set goals for the school year
Establishing a sane schedule
Prioritizing family time
How unstructured time helps boys learn
Teacher-parent relationships
How to get on his teacher's "good side"
Why you shouldn't "overshare" with your son's teacher, especially at the beginning of the academic year
The kindergarten/1st grade conundrum — how to know when it's time to send your son to first grade & why you might want to wait
Why it's crucial to build activity into your son's day
Links we mentioned (or should have) in this episode:
Back to School: Start Getting Ready Now — Boys Alive! blog post
How to Help Your Boys Have a Great School Year — On Boys episode 124
5 Back to School Resolutions — Building Boys blog post
Homework and Boys — On Boys episode 101
Emails & Phone Calls from Teachers — On Boys episode 131
Back to School Tips for Boys — Building Boys blog post
New Research Shows Link Between Kindergarten Cutoff Dates & ADHD Diagnosis — study mentioned at 24:30
LIKE THIS EPISODE? Share it with your friends (and thanks!):
Twitter:  use this link
Facebook:   use this link
LinkedIn:   use this link
STAY CONNECTED WITH JANET & JEN:
Join the Building Boys FB group and the Boys Alive! FB group
Be sure to opt-in at  Boys Alive! .com for your free report "3 Simple Tips to CONNECT with Your Boy."  And opt-in at  BuildingBoys.net, too!
Follow us on Instagram:  @on.boys.podcast and @boys.alive
Twitter:  @ParentAdvisor and @BuildingBoys 
LinkedIn:  use this link for Janet and use this link for Jennifer