Podcast: Play in new window | Download (Duration: 45:08 — 62.0MB)
Subscribe: Google Podcasts | Stitcher | RSS | More
Deborah Farmer Kris is a child development expert, author, and former educator — and she still finds raising kids a challenge!
"None of us are slot machines," she says. "It's not like you put in this language and out pops a child who says 'yes, mother.'"
Parenting, Kris says, is humbling, partly because "there's not one method that works for every child." Every child is different. So is every parent.
And yet, helping our children develop their emotional literacy skills is one thing we can do to help them thrive.
You can begin by taking a moment to calm yourself when you son's behavior is out of line or upsetting. Then, get curious. Often, another need lurks beneath. When you and your son are calm, try saying something like, "I noticed…" State your observation; allow some space and time for your son to respond.
"'I notice' takes the judgement out of it," Kris says. And even if your son chooses not to respond in the moment, your words convey that you see and care about him.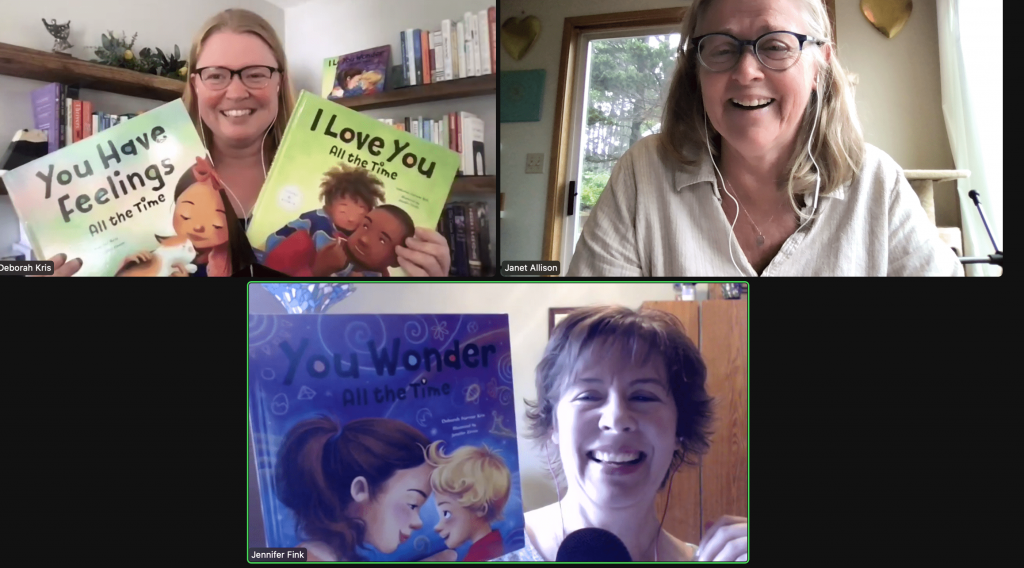 In this episode, Jen, Janet, & Deborah discuss:
Why striving for perfection parenting is wasted effort — and what you should strive for instead
The link between emotional literacy & boys' behavior
Letting boys tell their story (vs. making assumptions about their behavior)
Tailoring your communication to your boy's temperament (whether he's an introvert or extrovert)
The value of the village
Communicating with teachers
Helping kids understand unconditional love
The power of awe and wonder
Links we mentioned (or should have) in this episode:
parenthood365 — Deborah's website
I Love You All the Time, by Deborah Farmer Kris
You Have Feelings All the Time, by Deborah Farmer Kris
You Are Growing All the Time, by Deborah Farmer Kris
You Wonder All the Time, by Deborah Farmer Kris
Permission to Feel: Unlocking the Power of Emotions to Help Our Kids, Ourselves, and Our Society Thrive, by Dr. Marc Brackett (book mentioned at 13:11)
Awe Might Be Our Most Undervalued Emotion. Here's How to Help Children Find It. — Washington Post article by Kris (mentioned at 31:33)
Finding Ecohappiness — ON BOYS episode
Richard Louv on Animals, Nature, & Boys — ON BOYS episode
BACK TO SCHOOL is happening around the globe and that carries it's own set of challenges. Join Amy McCready for the BACK TO SCHOOL SurTHRIVAL training.  End homework hassles, put the responsibility where it belongs (your kiddo…) and more.  Go to:  https://boysalive.com/school for program details. (this is an affiliate link)