Podcast: Play in new window | Download (Duration: 40:06 — )
Subscribe: Google Podcasts | Stitcher | RSS | More
Empowering boys to challenge rape culture is one way we can decrease sexual violence, says Gordon Braxton, an anti-violence educator and activist who formerly served as the Director of Men's Outreach on Sexual Violence Prevention at Harvard University.
Currently, most of us "spend little to no time empowering boys to raise their voices against sexual violence," says Braxton, author of Empowering Black Boys to Challenge Rape Culture. "That leaves them in the hands of a world that minimizes it & normalizes it."
Parents typically teach girls how to recognize danger signs and avoid potential violence. But parents don't always prepare their boys to recognize or respond to violence, particularly sexual violence. We don't help boys answer the question, "What should I be doing in a violent world?" Braxton says.
Contrary to what we may think, boys welcome these converations, Braxton says. They want time and space to unpack their thoughts and observations regarding sex, violence, pornography, masculininty, and so much more.
Boys also need education and support. They need to learn how to respond if a friend, acquaintance, or stranger discloses abuse or sexual violence to them. Often, boys' intial reaction is to "adjudicate or jump in," Braxton says, but that's rarely the right response. Instead, he tells boys that "if you are approached as a friend, respond as a friend." They can listen and support — and we can encourage them to process their thoughts and feelings with a trusted adult.
Black boys need support to wrestle with centuries of unfair policing and persistent racial stereotypes that have long (unfairly) painted Black males as dangerous predators. Braxton invites young men "to consider that there is more than one response to historical injustice. We can choose to push back against those myths and stereotypes through our everyday actions." We can also help boys understand that "these fights [against racism and violence] are not mutually exclusive."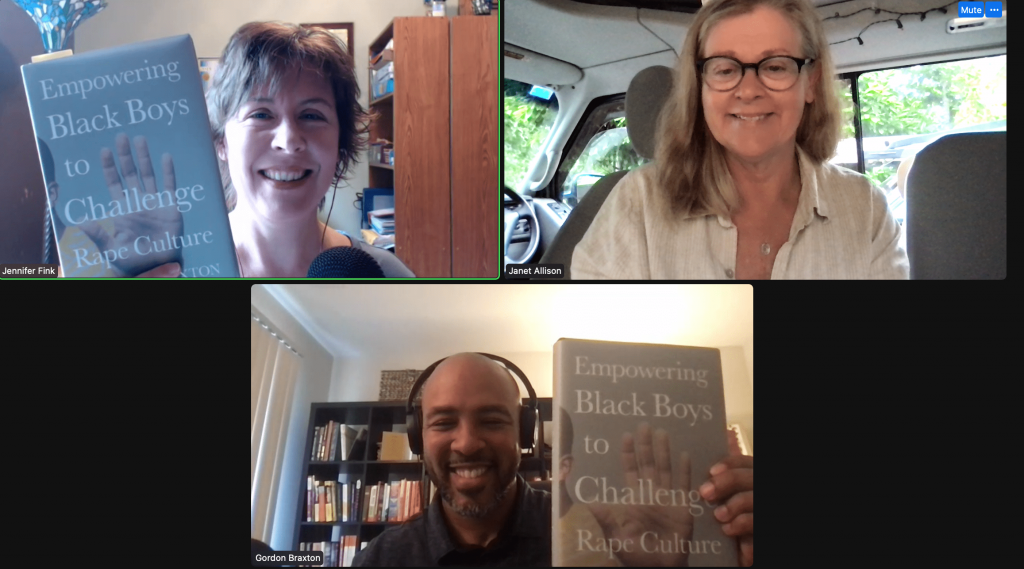 In this episode, Jen, Janet, & Gordon discuss:
Differences in how we talk to boys & girls about violence
What anti-violence is
Helping boys recognize how they contribute to a culture where violence is normalized
The power of peer education to confront sexual violence
Breaking past boys' cliched responses
Preparing boys to deal with the complications of stepping outside the man box
Why you must teach boys how to respond to disclosures of sexual trauma or violence
Helping boys recognize (& embrace!) their role as change agents
Inviting boys to consider nuance in conversations about racism and violence
Links we mentioned (or should have) in this episode:
Empowering Black Boys to Challenge Rape Culture, by Gordon Braxton
StandUpWithBoys.com — Gordon's website
List of state Coaltions against Domestic Violence
A Call to Men — organization mentioned at 37:48
Helping Boys Grown Into Healthy Men (w Ted Bunch) — ON BOYS episode featuring the Chief Development Officer of A Call to Men
RAINN –– the United States' largest anti-sexual violence organization (lots of helpful free info!)
BACK TO SCHOOL is happening around the globe and that carries it's own set of challenges. Join Amy McCready for the BACK TO SCHOOL SurTHRIVAL training.  End homework hassles, put the responsibility where it belongs (your kiddo…) and more.  Go to:  https://boysalive.com/school for program details. (this is an affiliate link)