Podcast: Play in new window | Download (Duration: 25:25 — 29.1MB)
Subscribe: Google Podcasts | Stitcher | RSS | More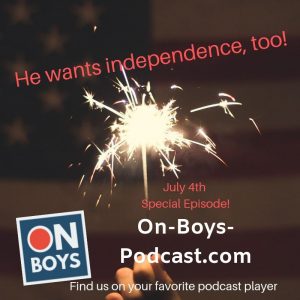 As we in the United States celebrate our nation's independence, we reflect on our boys' drive for independence. 
Toddlers cry, "I do it!" when we attempt to put on their clothes. Our teens scowl when we tell them what time to be home. Their frustration — toddlers' & teens' alike — is driven by their desire for mastery and control. Children are wired to learn. They're wired to gradually take on more and more responsibility.
"Kids," Jen reminds us, "have an innate drive for independence. You can use that to your advantage."
Of course, it's not always easy for adults to release control. Our boys' judgement seems questionable at times (often, in some cases!). We worry for their safety. And sometimes, we simply don't recognize that our little ones are capable of more. We don't see the ways in which our well intentioned actions may be handicapping our boys' development.
It's never too late to begin giving your boys more independence.
In this episode, Janet & Jen discuss:
Age-appropriate responsibilities
Why ages 0-7 is the perfect time to introduce skills & healthy habits (Spoiler: O-7 is the Age of Imitation)
Why investing in right-sized tools is a great investment in your child's development
How to make time to allow your child to develop his skills
How building a child's independence prevents entitlement and apathy
Why it's so hard to give our boys autonomy
How to get buy-in from older boys who aren't used to managing their own affairs
How to deal with resistance
Dealing with the heartache & pain of letting go
Independence vs interdependence
Links we mentioned (or should have) in this episode:
Why Boys Need More Independence — Building Boys post
Parenting: Raise Independent Children — excelled Psychology Today post
5 Steps to Untangle Your Parenting – Janet's online course; mentioned at 12:20
How to Deal with an Unmotivated Boy — one of Building Boys' most popular posts
Hygiene Help for Tween & Teen Boys — On Boys episode 120; mentioned at 15:30
The Self-Driven Child: The Science and Sense of Giving Your Kids More Control Over Their Lives, by William Stixrud PhD & Ned Johnson 
Waldorf Education turns 100 this year.  Find out more about Waldorf Education here:  https://www.waldorfeducation.org/