Powered by RedCircle
Want to know how to motivate boys?
Toss out your outdated beliefs about boys and men, says Maggie Dent, Australia's "boy champion" and author of From Boys to Men: Guiding Our Teen Boys to Grow Into Healthy, Happy Men. 
"Our boys aren't these tough, unfeeling humans," she says. "They've got incredibly tender hearts, and with appropriate guidance they can grow to shine."
Boys Don't Want to Fail
Boys don't want to disappoint their parents. Or themselves. They don't want failing grades, lost homework, and dozens of uncompleted assignments. It may seem that way — otherwise, they'd just do their work, right? But the reality is young, tween, and teen boys are still growing; they are still developing their organization and time management skills and sometimes (Ok, often), they fall behind. Nagging and browbeating them is not helpful. ("Of course that's not going to bring out the best in our boys," Maggie says.)
"We've got to be careful that we don't treat our boys harshly," Maggie says. Instead, "we really need to build understanding so we can support them and help them navigate the world." Yet in many places, shame and punishment are still the primary tools used to "motivate" boys.
Motivating Boys
The neurobiological changes of male puberty can actually affect boys' motivation — and explaining that fact to young boys may prevent some negative self-talk that could otherwise further thwart their motivation.
Helping boys understand that relevance of school assignments and house rules to their lives can also increase their motivation. A boy who knows why something is important to his life (and how it will help him with things that matter to him) is more likely to follow through than a boy who doesn't understand why you want him to do something that seems absolutely irrelevant to him.
Boys may also need adult assistance to break down overwhelming, seemingly insurmountable tasks into smaller bits. Instead of telling a boy with failing grades to "bring up your grades," work with him to identify one subject to focus on. Together, develop a plan to pull up his grades in that one class. Support and encourage his efforts, and celebrate his achievements. His successes will fuel his sense of competence, which will lead to increased confidence.
"There's nothing better for confidence and motivation than small doses of success," Maggie says.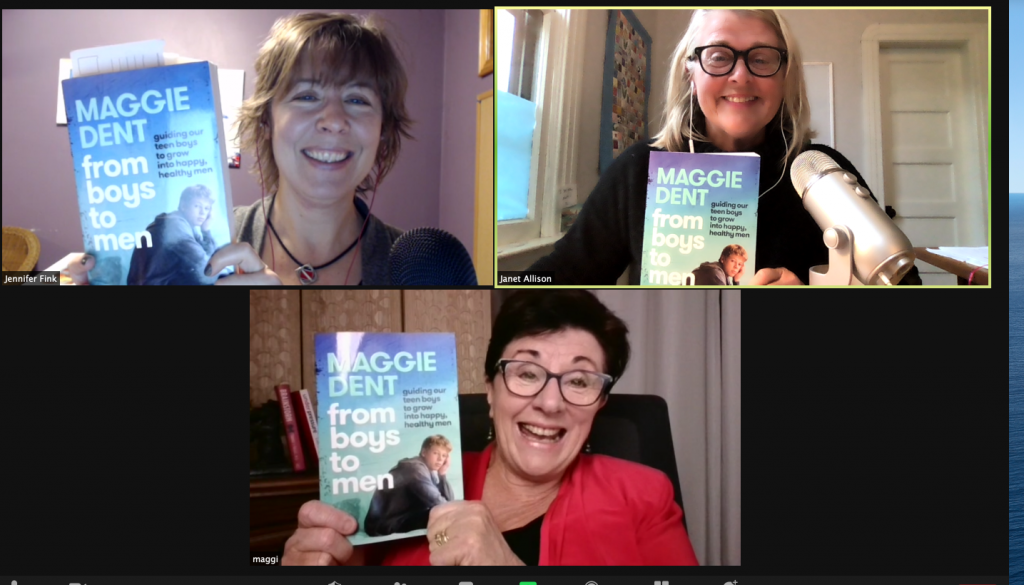 In this episode, Jen, Janet, & Maggie discuss:
Why it's essential to laugh w boys
Giving boys time to grow
How shame impedes boys' motivation
Why so many boys struggle in middle school & high school
Pace of male development
Helping boys with failing grades
Responding to boys' "crazy plans" (Pro tip: The phrase "give it some thought" is your friend!)
Empowering boys' inner compass
Gaming & digital technology
The power of positive noticing
Links we mentioned (or should have) in this episode:
MaggieDent.com — Maggie's website (LOTS of good stuff here, including a link to her podcast, Parental as Anything, and links to her courses & books)
From Boys to Men: Guiding Our Teen Boys to Grow Into Healthy, Happy Men, by Maggie Dent
Gender Equality, Boys & Men — ON BOYS conversation w Richard V. Reeves (mentioned by Maggie)
Maggie Dent: What Teenage Boys Really Need — 2020 ON BOYS episode
Maggie Dent on Mothering Boys (Part 1) — ON BOYS episode
Maggie Dent on Mothering Boys (Part 2) — ON BOYS episode
unpluggedpsychologist.com — website of Brad Marshall, the "unplugged psychologist" mentioned by Maggie
Need help with your boys?
Subscribe to Jen's newsletter, Building Boys Bulletin
Join Janet Allison's real-time, monthly group coaching program, Decoding Your Boy