Powered by RedCircle
Whole child sports emphasizes wholesome, safe, and developmentally appropriate athletic experiences for kids. It is the antithesis of the toxic, highly competitive youth sports culture that's unfortunately become the norm here in the United States.
Scott Lancaster, a sports performance coach who worked with the NFL; Luis Fernando Llosa, an investigative reporter who's worked with Sports Illustrated; and Kim John Payne, founder of Simplicity Parenting, started Whole Child Sports in 2011 to offer parents and coaches guidance, tips, and tools to help raise and develop happier, healthier, more well-rounded athletes who will sustain a lifetime passion for active play and fitness. The three men — all fathers — were distressed by what they saw happening in youth sports: an increased focus on competition (even at young ages), developmentally inappropriate expectations for children, and young athletes who burned out before graduating high school.
At their worst, youth sports can be fatal.
A Healthy Approach to Youth Sports
In current youth sport culture, the emphasis is on winning, rather than the development of the athlete and team. That focus tends to overlook mental health and individual variations and is damaging to kids and society.
"Command-oriented coaching" — the common approach to youth sports — "kills flexibility and self-development and retards creativity and the development of resilience," Lancaster says. "Ultimately, one of the worst things you can do to a kid developmentally is force them to play a sport like an adult professional athlete does."
A much better, safer, healthier approach to sport is one that allows children to gradually develop skills through play. 
"Don't funnel your kid into organized sport at an early age," Llosa says. "It will curtail their creativity, damage their potential resilience, hamper them in developing social skills, and perhaps create entitlement monsters."
It's not easy to push back against the dominant sports culture, but doing so can preserve your child's physical and mental health — and, ultimately, his athletic ability. You can start at home, or at local park.
"You are your child's first coach," Lancaster says. "You're the steward of your child's athletic development and you're responsible for choosing the appropriate coach, one who is dedicated to helping kids grow and learn."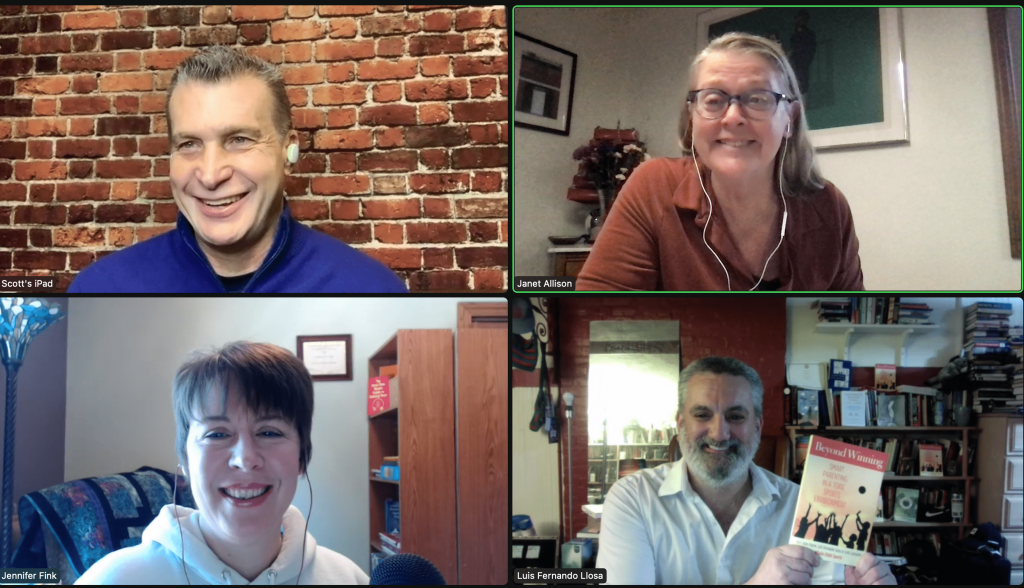 In this episode, Jen, Janet, Luis Fernando, & Scott discuss:
Role of sports in boys' lives
Harms of current youth sports culture
Choosing the right sport for your child
How sports can help boys develop empathy
What actions sports gets right (and team sports often get wrong)
Value of multiple sports vs. sports specialization
Developmentally appropriate sports education
Links we mentioned (or should have) in this episode:
WholeChildSports.com – includes a Parent/Coach Toolkit with lots of great free resources (such as Choosing a Coach: A Parent's Checklist)
Beyond Winning: Smart Parenting in a Toxic Sports Environment, by Kim John Payne, Luis Fernando Llosa, & Scott Lancaster
Simplicity Parenting with Kim John Payne — ON BOYS episode
Linda Flanagan: Youth Sports are Out of Control — ON BOYS episode
Healthy Sports Parenting — ON BOYS episode
Sins of the Father — Sports Illustrated story by Llosa
Emotionally Resilient Tweens & Teens: Empowering Your Kids to Navigate Bullying, Teasing, and Social Exclusion, by Kim John Payne & Luis Fernando Llosa
Healthy, Organic, Meal Kit Delivery Service. Use promo code ONBOYS60 to get 60% off & free shipping!