Podcast: Play in new window | Download (Duration: 44:25 — )
Subscribe: Google Podcasts | Stitcher | RSS | More
Parenting inevitably includes health challenges.
Kids get sick. Parents get sick. And injuries and accidents happen more often than we'd like. Learning how to manage a medical diagnosis — and navigate the health system — is a crucial parenting skill.
"Boy mom" and COVID, cancer and heart failure survivor Jen Singer has more medical system experience than most parents. She was diagnosed with lymphoma when her boys were eight and ten years old.
"I learned, by doing, how to advocate for myself," says Singer. When her local hospital refused to perform a PET scan that she knew was crucial to the proper diagnosis and treatment of her illness, she signed herself out of that hospital AMA (against medical advice) and sought care in NYC instead. That PET scan was key to her treatment and eventual recovery.
(The Right) Information is Empowering
Singer, a medical writer who parlayed her experience into a series of books, the Just Diagnosed Guides, says that parents (and others) should not rely on search engines for medical information. When you receive a diagnosis, "Don't Google it," she says, because the results "are unfiltered." The info you find may be incorrect or out-of-date.
In case of a serious diagnosis, do not believe the statistics you find online. General survival statistics, she says, "always include the oldest and sickest people" and may not reflect your  experience.
Getting Necessary Care
Unfortunately, patients and families often have to push to get the care they need (and deserve). Don't assume that "your" doctor (or the first doctor you see) knows best. If a doctor or healthcare professional doesn't listen to you, adequately answer your questions, or take your concerns seriously, you should probably seek another medical opinion.
"If you feel like you're not being heard, get a second opinion," Singer says.
That's not always easy — particularly for patients in rural areas and those with restrictive health insurance policies or no health insurance — but when faced with a serious diagnosis, it's worth the effort to explore all options. In some cases, you may be able to access specialists in other parts of the country via telehealth.
Helping Kids Cope with Illness
"I used to think I ruined their childhoods by having cancer," Singer says, "because all of their innocence was taken away at one time." Yet she realizes that her sons learned a lot about independence and caring for others through their shared family experience.
Still, when she was diagnosed with heart failure in 2020, she "immediately set up support" for her sons, even though they are now young adults, because she knew another serious illness "was going to be a major flashback for them." She looped in caring family and friends and asked them to text and check in on them.
Parents (and others) need to allow boys to experience and express their feelings, both physical and emotional.
"We do our boys and our men a tremendous disservice by expecting them not to feel their feelings," Singer says, "and it causes them problems, health-wise and in communication" with others in their lives.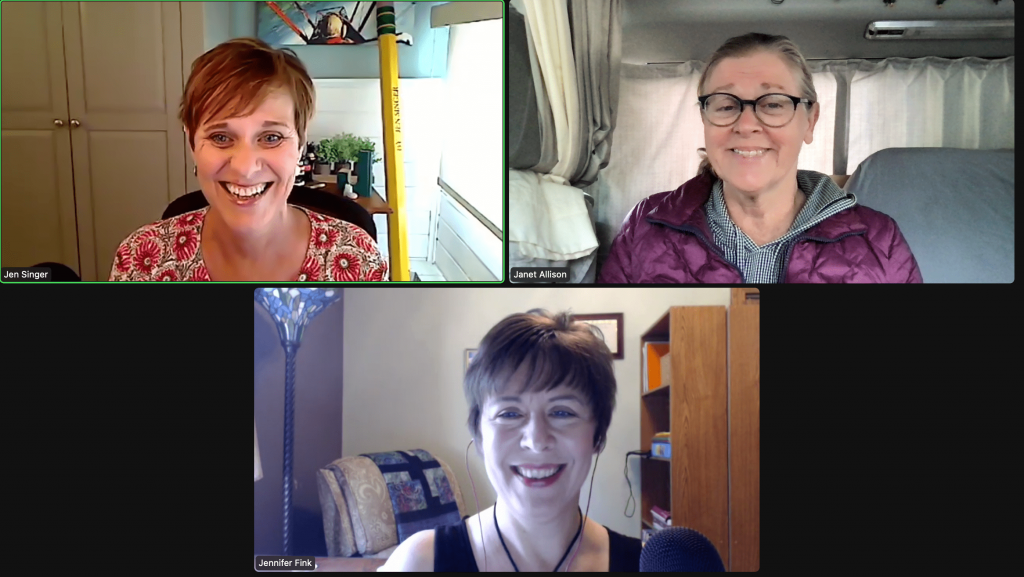 In this episode, Jen, Janet, & Jen discuss:
Getting a diagnosis
Finding reliable medical information
When (and how) to switch doctors or seek a second opinion
Helping kids cope w a parent illness
Determining what information to share (and not share) with others
Supporting people who are sick
Asking for (and accepting) help
Teaching boys to manage health & medical issues
Links we mentioned (or should have) in this episode:
The Just Diagnosed Guides — includes links to buy Jen's books How to Be Sick and How to Support Someone Who's Sick
You Can Thrive with Chronic Illness and Special Needs — ON BOYS episode
Need help with your boys?
Subscribe to Jen's newsletter, Building Boys Bulletin
Join Janet Allison's real-time, monthly group coaching program, Decoding Your Boy