Podcast: Play in new window | Download (Duration: 29:07 — 33.4MB)
Subscribe: Google Podcasts | Stitcher | RSS | More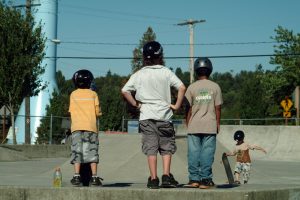 Some call the tween years a "second toddlerhood."
Like toddlers, tweens are striving for independence and determined to do things on their own. Except when they'd rather not. Some days, they want nothing more than to be little kids again, cuddled in your lap.
The mood swings of tween boys catch many parents off guard, especially parents who mistakenly bought into the idea that "boys are easier." Truth is, the tween years are a challenge: for you, and for your kids. That's because a lot of physical, neurological and emotional growth happens between the ages of 10 and 14. Your boys are changing — so quickly, in fact, that it is literally difficult to keep up.
Whether this is your first or third (or seventh!) time through the tween years, you likely need support, information and humor.  We're here to give it to you.
In this episode, Jen & Janet discuss:
Common reactions to the tween years
Why your kids need reassurance during their tweens
How the physical changes of tween-dom lead to common behavioral changes (Hint: increased testosterone leads to increased body odor and increased risk-taking)
The 10-year gap between experience emotions, and learning to control them
Why the tween years can be emotionally triggering for parents
The importance of self-care during the tween years
"Potted plant" parenting  — and why it may be the best way to parent tweens and teens
Sam's 24 Hour Garage Challenge
The value of playfulness (for tweens and their parents!)
Mental health concerns in the tween years (the peak onset age for most mental health disorders is 14)
Why you must make sure your son is connected with adult males
Jen's 3 Tips for Surviving the Tween Years
Links we mentioned (or should have) in Episode 135:
Top 6 Tips for Parenting Tween Boys
120: Hygiene Help for Tween & Teen Boys
Brainstorm: The Power and Purpose of the Teenage Brain, by Daniel J Siegel, MD
What Do Teenagers Want? Potted Plant Parents — NYT article by Lisa Damour
123: The Good News about Bad Behavior with Katherine Reynolds Lewis
110: Talk to Boys about Sex with Amy Lang
128: 21st Century Sex Ed with Jo Langford
Author Ann Douglas on How to Health Boys with Mental Health Challenges — Q & A with the author of Parenting Through the Storm: Find Help, Hope and Strength When Your Child Has Psychological Problems
132: Risk-Taking Boys with Mom Judi Ketteler
Brain Rules: 12 Principles for Surviving and Thriving at Work, Home, and School, by John Medina.  Also:  Attack of the Teenage Brain